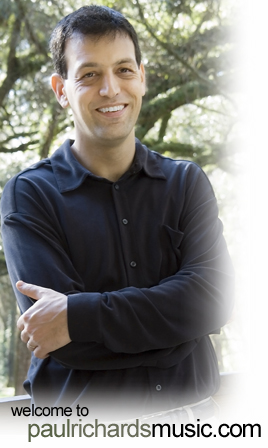 Paul Richards, professor of composition at the University of Florida, is the recipient of numerous prizes and commissions.
His works have been heard throughout the United States and internationally on six continents. Awards include Special Distinction in the ASCAP Rudolf Nissim Prize, the Jacksonville Symphony Orchestra's Fresh Ink competition prize, the New Music for Sligo/IMRO composition prize, and many others. Commissions have come from orchestras, wind ensembles, choirs, and chamber ensembles, and his works have been recorded by Richard Stoltzman, the Slovak Radio Symphony Orchestra, the Moravian Philharmonic, and numerous chamber groups.
Music by Paul Richards is recorded on the Meyer Media, Centaur, MMC, Capstone, Mark, Spitfire, and Summit labels, and is published by Carl Fischer Music, the International Horn Society Press, TrevCo Music, Jeanné, Inc., and Margalit Music.
Paul can be contacted via email at prichards@arts.ufl.edu.